Contact Us NOW for
More Information on
Your Service Needs!
PLANET SHRED RECORDS MANAGEMENT is a full service professional Records & Information Management (RIM) company serving local businesses in Monmouth and Ocean Counties, NJ. We are dedicated to providing our clients with exceptional service and guaranteeing their satisfaction.
PSRM offers the following professional services:

Records Storage

Records Management

Document Scanning Solutions

Secure Records and Information Destruction

Hard Drive Destruction
Records Storage: At our secure facility we employ state-of-the-art records inventory software to effectively manage and meet all of your records storage needs. Our records center is racked and configured for archival preservation.
Records Management: Complete records management solutions that include File Indexing & Barcode Tracking, Pick-Up & Delivery, Records Storage Reporting and Retention Period Monitoring.
Document Scanning: Providing custom imaging solutions specific to each client document management requirements.
Document Destruction: Secure, cost-effective document destruction solutions for commercial clients, as well as Drop-off Shredding Service at our facility conveniently located in Wall Township.
Hard Drive Destruction: Our 3-Step Process-
Degauss - Ensures that all data is erased and irretrievable
Destroy - Renders the drive and platters inoperable
Recycle - Safely transports the destroyed material to a NJ DEP approved recycling facility
Since we are family owned and operated, our clients will always know exactly who is handling their confidential materials. And since we're local, we can quickly respond to your service and access requests!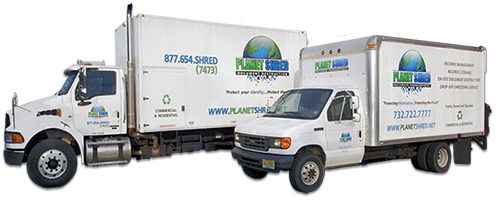 We are a member of NAID - the National Association for Information Destruction and PRISM - the Global Trade Association for Information Management Companies - and therefore adhere to the highest standards of confidentiality and protection of our customers' records and information.